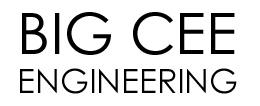 We don't make the KLR, we make it better!
---

---
NOTICE: Big Cee Engineering is no longer selling KLR parts. Apologies for the inconvenience, and thank you for your support over the years. I will still maintain plans for the dashboard along with other informational links in the menu. Thank you.

Chris Krok, Proprietor
Pasadena, California, USA
bigcee@bigcee.com
All designs contained herein are property of Big Cee.